Did Someone Call For A Taxi?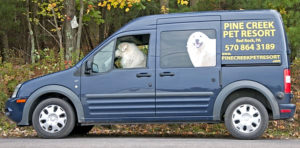 Time is valuable and so are your fur babies. This taxi service will take care of your loved ones and give you some peace of mind, all while you bypass the rushing around to drop off or get your pet. It is hassle-free and time efficient.
We can get your furry friend where they need to go safe and sound with our taxi service. Any available time during business hours, the taxi can either come to your home and pick up your pet or drop your pet off from their stay.
Taxi rate starts at $1.50 per mile, one direction pick-up or delivery.
re: 25 mi from Pine Creek to pick up Daisy in Dallas = $37.50+ tax

Give us a call to quote and set up a schedule. 570-864-3189