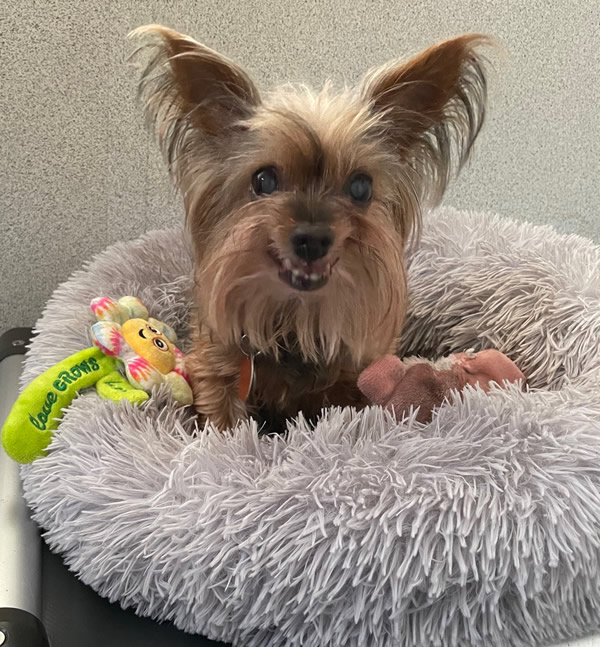 Dogs are individuals and their vaccination protocols should be discussed and agreed upon for each pet with your veterinarian. We believe in working with each family pet to keep them healthy. We must adhere to Rabies as it is state and federal law. Requirements are listed below.
Please be sure that all pets are up to date on vaccinations that you and your veterinarian have agreed is a correct protocol for your family member. Bring along a signed statement from veterinarian for any unusual protocols.
We must also provide the healthiest environment for our guests. Some vaccines have the ability to shed and mutate which can lead to a contagious reaction such as coughing or sneezing. In order best serve all that stay with us we require that vaccinations be completed a minimum of 7 weeks (45 days) for modified live or attenuated vaccines, 30 days before boarding for killed vaccines. Your veterinarian can explain the types of individual vaccines they provide.
In order to treat each pet that graces our doors as an individual our vaccination is different than most, we can be flexible with some individual lead times. Give us a call, we will be happy to discuss your unique family pet before vaccinating. 570 864 3189
Regarding Pet Vaccination We Believe:
Requirements for vaccination to board with us at Pine Creek Kennels Pet Resort;
Note: modified live or attenuated vaccines must be administered 7 weeks before boarding. (some bordatella, distemper combinations and some flu vaccines)
Rabies as per federal law; 3 months, 1 year and every 3 years thereafter.
Canine Core vaccinations; parvovirus, distemper, hepatitis and rabies according to what you & your veterinarian decide is appropriate for your pet,
~ OR ~
Canine core vaccines at 16 weeks, a titer 2 months later and titer every three years thereafter.
*** Bordatella. This vaccine will often be administered too close to boarding thereby greatly increasing viral loads that lead a higher probabillity of shedding a cough that can be contagious. We believe there is less risk to forgo than bring in pets with recent vaccines capable of shedding, and causing contagious reactions, therefore Bordatella can be optional based on the individuals situation. 570-864-3189
TO BE PERFECTLY CLEAR, WE DO NOT DISCOURAGE VACCINATIONS.
We believe that one should be well informed before making a choice on all vaccines. We reserve the right to protect all of our guests from the possibility of shedding vaccines, therefore please follow our timing guidelines in order to board your pet with us.
THANK YOU SO MUCH FOR HELPING TO KEEP ALL OF OUR VACATIONING PETS HEALTHY AND HAPPY!